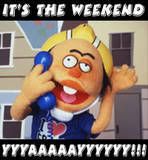 What's up everyone! What an eventful past 4 days this has been. Between my follow-up interview with Rob Huebel and Paul Scheer from Human Giant, to the fact that the day I posted that interview marked my 100th post! And let's not forget the fact that thanks to good folks like you guys, Human Giant received more then 1,200,000 hits on their section of MTV.com during their 24 hour takeover of MTV(thus securing them a second season).

There's simply just too much to get to this week, that I have preempted the latest edition of the "Wicked Pissah Webcast" in order to bring you this jam packed "State of the Blog: Weekend Round-Up" edition. Let's get to it then, shall we?

* Human Giant. Yes, they got over 1,000,000 hits on their website. Yes, they have been picked up for a second season. And yes, they couldn't have done it without the help of people like you(the readers) who all went to the website and stayed up to watch this historic MTV event. So on behalf of the whole gang at HG: Thanks for everything, and keep watching for season 2 as well as a DVD release in the not-so-distant future.

* The 100th post. Did I deliver, or did I deliver? What better way to celebrate vaf89's 100th post then to interview the people that directly influenced the popularity of it today! Those guys are good people who have one hell of a show. But above all, they never underestimate their fans. They're pretty fucking cool to grant me an interview with each of them. And they scored even more coolness points by taking time out of their very stressful and hectic work schedule of preparing for their takeover to grant me a follow-up interview. Besides, it was for a good cause. I'm always willing to do what I can to support some good, hard working comedians just trying to entertain.

* Prom weekend. As most of you know, this weekend most high schools held their senior proms. My high school was no exception. And as a senior, I obviously went to mine. And as a blogger, I obviously have a big cynical opinion on it all. And you'll hear that opinion this Monday. So stay tuned for that.

* Guest interviews. I am still working on acquiring more guest interviews. I sent out a boatload of requests to a whole slew of comics this week, and I am in the process of getting some pretty great responses, as well as a few "Thanks, but no thanks" letters(i'm talking to you, Emilio Estevez).

See you all on Monday!